About Al Utton
The Utton Transboundary Resources Center was established at the University of New Mexico School of Law to carry on the exceptional work of the late Professor Albert E. Utton (1931-1998).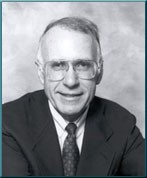 Professor Utton, a visionary and man of diplomacy, focused his energy for the last twenty years of his career on international transboundary issues. He founded and directed the activities of the International Transboundary Resources Center at the UNM School of Law. Acknowledged worldwide as a scholar and expert in his field, he brought together academics, scientists, and policy makers to resolve border issues over resources.  He co-authored a draft of the United States-Mexico Transboundary Water Resources Treaty. He served as a consultant and conference organizer on transboundary resource questions in North and South America, Europe, Asia, the Middle East, and Africa.
Professor Utton's particular interest was preventive diplomacy. The Bellagio Draft Treaty, written by Robert D. Hayton and Utton, was drafted after twelve years of research by numerous experts in a variety of fields who gathered to study approaches for joint management of shared resources. The Treaty suggests a structure by which two or more parties can cooperatively study and jointly manage a transboundary resource, such as border groundwater issues.
For nearly twenty years, Professor Utton served as Chair of the New Mexico Interstate Stream Commission, which oversees the state's major rivers and water supply. He represented the State of New Mexico in negotiating a water rights settlement with the Jicarilla Apache Tribe, the first such adjudication in the state.
He was editor of the Natural Resources Journal for thirty-five years. He created and directed the special certificate program in Natural Resources Studies. Professor Utton wrote and published over twenty books and monographs in various areas of natural resources law and international law.
A native of Aztec, New Mexico, Professor Utton received his undergraduate degree in geology with honors from UNM. A Rhodes Scholar who received a law degree from Oxford University, Utton returned to New Mexico and became a faculty member at the School of Law in 1962, where he devoted his energies for the next 36 years. He taught administrative law, water law, environmental law, and international law.  He remained a valued and distinguished member of the faculty until his death.