Lunch & Learn with Pat Parenteau, Vermont Law School
February 5, 2019
"Climate Litigation in the US and EU: Contrasting Theories of Judicial Authority"
On February 5th, visiting Professor of Law Patrick A. Parenteau gave a lively lunchtime lecture exploring the different approaches that courts in the US and EU are taking to adjudicating rights and responsibilities of government and private actors associated with the causes and consequences of climate disruption.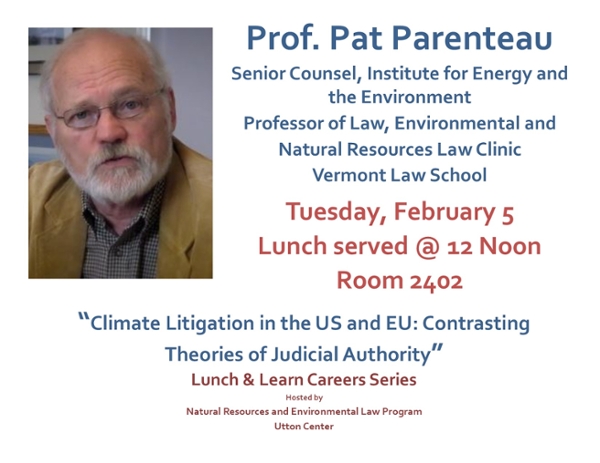 About the Speaker
Patrick A. Parenteau is Professor of Law and Senior Counsel in the Environmental and Natural Resources Law Clinic (ENRLC) at Vermont Law School. He previously served as Director of the Environmental Law Center at VLS from 1993-1999; and was the founding director of the ENRLC in 2004.
Professor Parenteau has an extensive background in environmental and natural resources law. His previous positions include Vice President for Conservation with the National Wildlife Federation in Washington D.C. (1976-1987); Regional Counsel to the New England Regional Office of the EPA in Boston (1984-1987); Commissioner of the Vermont Department of Environmental Conservation (1987-1989); and Senior Counsel with the Perkins Coie law firm in Portland, Oregon (1989-1993).
He is a visiting professor at UNM School of Law during the Spring 2019 semester and is teaching Endangered Species.
This Lunch & Learn lecture was co-hosted by the Utton Center and the Natural Resources and Environmental Law Program.