Utton Center Hosts Conference at the UNM School of Law
April 27, 2017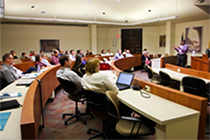 Water Resilience in a Time of Uncertainty - How Can Our Water Laws and Policies Better Support Water Resilience?
The Utton Center convened 42 water policy decision-makers, water experts, practitioners, and academicians from New Mexico and across the West to develop new thinking about water management, analyze outcomes of previous ideas and proposals, and develop water law and policy recommendations for the State Legislature.
The discussions were framed around the concept of "water resilience," meaning New Mexico's legal and institutional ability to adapt and cope with changing water supplies and demands. This concept of resilience, as defined by Melinda Harm Benson and Robin K. Craig is "a new way of addressing the challenges ahead…acknowledging disequilibrium and nonlinear, continual change."
Topics covered were:
A Framework for Resilience—Marilyn O'Leary, Visiting Research Professor, Utton Center, and Melinda Harm Benson, Associate Professor, Department of Geography and Environmental Studies, University of New Mexico


The Pressures on Water Supply—Dagmar Llewellyn, Hydrologist, Bureau of Reclamation, and Peggy Johnson, Principal Hydrogeologist, New Mexico Bureau of Geology and Mineral Resources, New Mexico Institute of Mining and Technology


The Characteristics of a Resilient System—David Feldman, Chair, Department of Planning, Policy and Design, and Professor, Department of Planning, Policy U& Design and Political Science, University of California Irvine


New Sources of Water—Michael Hightower, Distinguished Member of the Technical Staff, Sandia National Laboratories


Current Resilience Factors in New Mexico—Adrian Oglesby, Director, Utton Center


Effective Strategies for Resilience—Elizabeth Kistin Keller, Nicholas Institute for Environmental Policy, Sandia National Laboratories, and Stephen McCaffrey, Distinguished Professor of Law, McGeorge School of Law, University of the Pacific


Resilience and the Law—Dan Tarlock, Distinguished Professor of Law; Director, Environmental and Energy Law Program, IIT Chicago-Kent College of Law, and Reed Benson, Keleher & McLeod Professor of Law, and Natural Resources and Environmental Law Program Director, UNM School of Law


Collaboration, conflict resolution, preventive diplomacy in adapting policy to address the impact of altered water supply—Aaron T. Wolf, Professor of Geography, College of Earth, Ocean, and Atmospheric Sciences at Oregon State University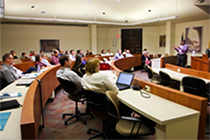 In the final session, participants worked together to develop ideas that will help make New Mexico water law and policy better support water resilience. Law students played a critical role in the planning and execution of the conference. David Ketai, Zachary Ogaz, Anne Minard, Elizabeth Reitzel, and Diego Urbina conducted the pre-conference research and made important contributions throughout the conference.
John Fleck, science writer for the Albuquerque Journal, delivered a dinner presentation on "Sharing Water: What an environmental experiment in Mexico can teach us about social capital, institutional arrangements, and the future of the Colorado River."
Blogs about the conference have been posted: http://www.inkstain.net/fleck/2014/10/change-stasis-and-or-resilience-in-new-mexico-water-policy/#comments and http://westernriverlaw.com/