Lunch & Learn with Laura Paskus, NM Political Report
February 14, 2019
"A Journalist's Perspective on Water and Climate"
The Utton Center presents Laura Paskus, an Environmental Journalist of the NM Report, for a Valentine's Day Lunch & Learn lecture titled "A Journalist's Perspective on Water and Climate." Paskus speaks on the issue of climate change, drought, wildfires and extreme temperatures throughout her tenure as a journalist and resident in New Mexico, and touches on the dire need for law and policy makers to pay attention to the science of climate change when making important decisions for the state.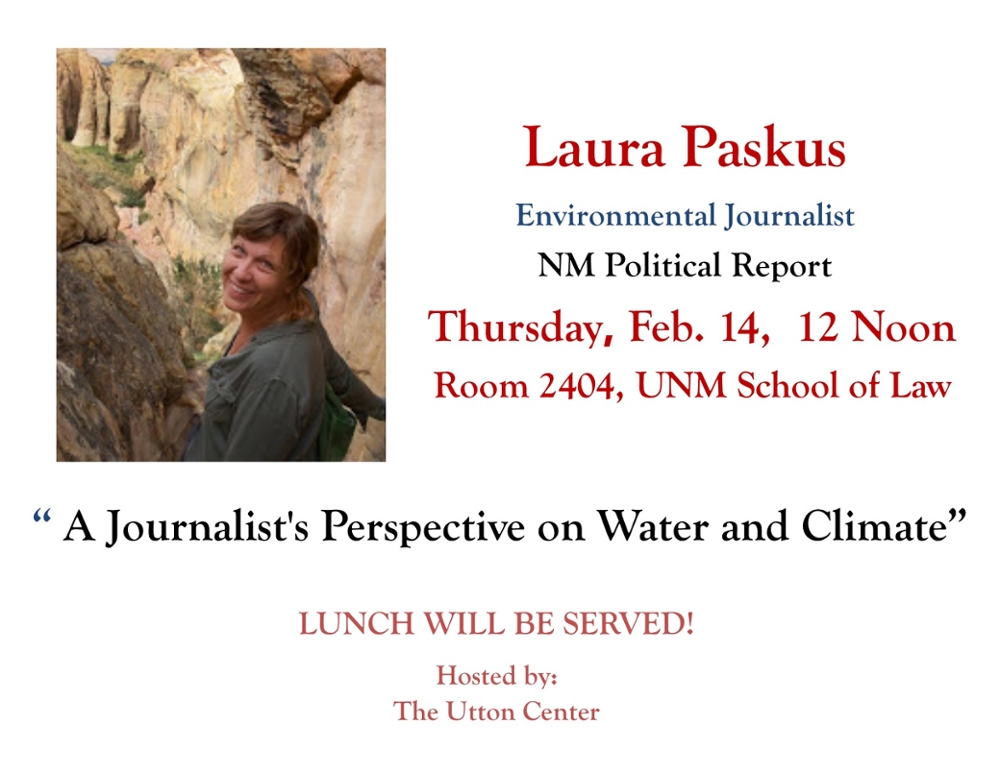 About the Speaker
Laura Paskus has been writing about New Mexico's natural resources and communities since 2002, as an assistant editor of High Country News, a radio producer at KUNM-FM, managing editor of Tribal College Journal and a freelancer for a variety of publications including the Santa Fe Reporter, New Mexico In Depth and Indian Country Today.
Her work has also appeared in Al Jazeera America, Ms. Magazine, National Geographic Online, The Nature Conservancy Magazine, The Progressive, Columbia Journalism Review, The Mountain Gazette, Audubon and Orion. 
Laura first moved to New Mexico in 1996 and worked as an archaeologist and tribal consultant throughout New Mexico, Arizona, and southwestern Colorado. She's also a correspondent for New Mexico In Focus and a graduate student in the University of New Mexico's Geography and Environmental Studies Department.