Lunch & Learn with Professor Lee Paddock, George Washington University
April 30, 2017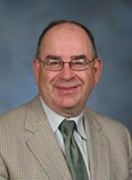 "The Washington D.C. Market"
Associate Dean Lee Paddock, Professor of Environmental Law Studies at George Washington University, visited the School of Law on April 30, to present a lecture on Washington, D.C. careers and Masters of Law programs. The Natural Resources and Environmental Law Program and the Utton Center hosted the lecture.
Dean Paddock shared his own career path and the many opportunities to practice in Washington, DC in private practice, government, and academia.
Prior to joining the faculty at GW Law, he was director of Environmental Legal Studies at Pace University Law School. He has also served as a senior consultant for the National Academy of Public Administration on several projects. In addition, he was an assistant attorney general with the Minnesota Attorney General's office for 13 years.