CLE Lecture with Bidtah Becker, Navajo Nation Dept. of Justice
May 31, 2017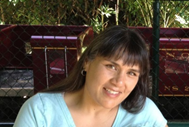 "We've Only Just Begun - Tribal Water Rights Settlement Implementation"
Bidtah Becker gave a presentation on the challenges and opportunities of implementing a tribal water rights settlement. She laid a foundation by explaining key points of the law which underlies the determination of tribal water and by describing the Navajo Nation in relation to the Colorado River Compact. Then she described the project and the types of agreements that were required for implementation. She stated that following the finalization of a settlement agreement, parties should expect that much more will be required, perhaps more than originally anticipated.
Ms. Becker is currently Assistant Attorney General for the Natural Resources Unit of the Navajo Nation Department of Justice. She is an enrolled member and citizen of the Nation. The Natural Resources Unit handles legal matters pertaining to the development and use of the Nation's land and natural resources and protection of the environment. Ms. Becker has participated in the negotiation of the Little Colorado River Water Rights Settlement and the San Juan Basin/Navajo Nation Water Rights Settlement. She graduated from the University of New Mexico School of Law in 2000 and the Georgetown University School of Foreign Service in 1993.
While in law school, Ms. Becker was a founding member of the Tribal Law Journal. She is a proud mother to five-year-old Tazbah and nine-year-old Bahe and happily married to Paul Spruhan, also a 2000 graduate of UNM School of Law.
This presentation is sponsored by the UNM School of Law Natural Resources and Environmental Law Program and the Utton Center in cooperation with the Natural Resources, Energy and Environmental Law Section of the New Mexico Bar Association.