Utton Center Announces New Director Adrian Oglesby
March 15, 2017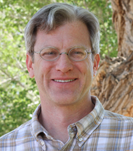 The Utton Transboundary Resources Center at the University of New Mexico School of Law is pleased to announce that Adrian Oglesby will assume the position of director as of July 1.
Prior to joining the Utton Center staff in June 2013, Oglesby served as an outside advisor, editor, and grant writer for the Center. As Senior Staff Attorney, he worked to identify and develop meaningful legal and policy solutions to the real and immediate natural resource challenges facing New Mexico.
Oglesby graduated from the University of New Mexico School of Law in 2000. Before earning his JD degree, he managed environmental cleanup projects. He has since run a successful law firm that provided legal counsel to tribes, farmers, and NGOs on water and environmental issues; represented the New Mexico Interstate Stream Commission on the Pecos River; and established and managed the Living Rivers Program for The Nature Conservancy in New Mexico.
Currently Oglesby is the Vice Chairman of the Middle Rio Grande Conservancy District Board of Directors, President of the New Mexico Riparian Council, Chair-Elect of the Natural Resource Section of the State Bar, Chairman of the Mid-Region Council of Government's Water Resource Board, and a member of the Tamarisk Coalition's Board of Directors.
As the Utton Center addresses the critical water issues of New Mexico and the arid Southwest, Oglesby brings a wealth of background and experience to the Center's efforts. He is already engaged in planning and facilitating water and natural resources projects that will expand the education of the students at the UNM School of Law and serve the state legislature, agencies, local governmental entities, and the communities of our state.