CLE with Patrick V. Brady, Sandia Laboratories
October 16, 2017
"What U.S. Hydrofracking Means for the World"
On October 16, Patrick V. Brady, Senior Scientist in the Geoscience Research & Applications Group at Sandia Laboratories, talked on the hydraulic fracturing boom in the United States to a full house at the Natural Resources & Environmental Law Lunch & Learn series. Attendees included students and faculty from the School of Law and the UNM Water Resources program, as well as Albuquerque attorneys.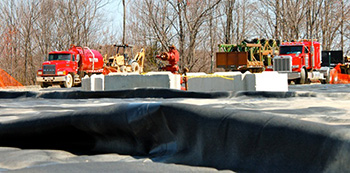 In his lecture, "What U.S. Hydrofracking Means for the World," Dr. Brady explained, in layman's terms, the science and technology of hydraulic fracturing and the geologic features relevant to the process and its risks. He pointed out that scientists as yet do not have any long-term data on the environmental effects of the activity.
The lecture also covered water: the risks of disturbing geologic strata containing extremely salty water and the technologic options for dealing with toxic liquids generated by hydrofracking.
Dr. Brady pointed out that, though major shale formations exist around the world, the greatest extraction activity is occurring in the U.S., and he explained marketplace and social factors driving that imbalance.
He concluded by encouraging audience members to inform themselves of the facts surrounding hydrofracking and to apply that knowledge to "triangulate" to the truth amidst the controversy surrounding the practice.
This Lunch & Learn lecture was co-sponsored by the Utton Center and the NREL Program.