The Resilience in Water Mgmt Project presents Dr. Bonnie Colby, University of Arizona
May 30, 2017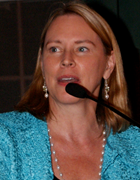 "Water Banking for a Resilient New Mexico Economy"
On March 27, Bonnie Colby, Ph.D., a professor in the University of Arizona's Department of Agricultural and Resource Economics presented the final lecture in our Resilience in Water Management project to participants from the Resilience in Water Management conference, and faculty and students from both the UNM Water Resource Program and UNM School of Law.
Dr. Colby's research is in water resource economics, and in particular, regional adaptation to drought and water scarcity. Some of her current projects involve designing new mechanisms to address water shortage risks across urban, agricultural and instream water uses. She discussed successful water banks in western states, the economics of water banking and what makes it work, and the effect of transaction costs on the rate of banking.
The PowerPoint presentation for Dr. Colby's lecture can be viewed online.
This lecture was presented as part of the "Water Resilience in a Time of Uncertainty" project underwritten by a grant from the McCune Charitable Foundation. Additional funding was provided by the New Mexico Water Resources Research Institute.